Bloomington Indiana Homes for Sale ~ Indiana Homes for Sale by Owner ~ My New Family Home


Bloomington Indiana Real Estate ~ Homes for Rent ~ Houses for Sale
Why rent? $0 down & $650 monthly to buy a new home!
3 new 3 bedroom homes in the Broadview neighborhood
Call 812.322-7300 for more information on these properties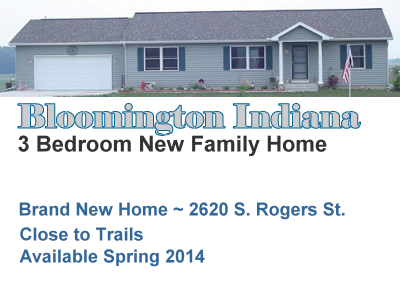 Two new affordable 3 Bdrm homes on S. Madison are now complete and for sale.
2302 S. Madison St.

2310 S. Madison St.

Bloomington Indiana real estate, affordable homes for sale and homes for rent, condos for sale and rent, property in the heart of southern Indiana. Residential real estate for sale by owners. IU student rentals. Homes and condos near Indiana University, in Bloomington, Monroe County, Indiana.

View wonderful retirement investment properties and commercial investment properties in and around Bloomington, IN and nearby scenic Brown County Indiana.

Bloomington, Indiana is a vibrant community with public transportation, airport, athletics, arts, entertainment, and a major international university. Named one of the Top 10 Places to Live, Top College Town, Top Bycycle Friendly City, Outstanding Place to Retire, Top Best Small Place for Business, and A Best City for Doing Business.

Since the 1980s the economy has been moving toward high tech, entrepreneurship, nonprofit, service and governmental employment. There is a large arts community with many galleries, artists and musicians, and quality of life is a valued community asset.

3 BR 2.5 B Condo for sale close to IU campus, YMCA & Bryan Park
Bloomington, Indiana

3 Bedroom Condo for Sale


Bayberry/Winslow Farm Neighborhood
Winslow Farm Rd. @ Henderson
Available May 2014
Buy for $115,000 FSBO
| | | |
| --- | --- | --- |
| | | |

Rental property close to IU campus & Bryan Park
Bloomington, Indiana

3 Bedroom Family Rental Home near Bryan Park


Bryan Park Neighborhood
Moody Street & Henderson
Available August, 2014
Rental Home for $1200/month

Income Property: Family Rental with White Picket Fence near Bryan Park
Bloomington, Indiana Rental Property

3 Bedroom Rental Home near IU Campus

For Rent near Bryan Park
Available August, 2014
Corner of Woodlawn & Wilson

Rental home for $1200/month

Family Home Rental near YMCA & Bloomington South High School
Bloomington, Indiana Home for Sale

3 Bedroom Home near Bloomington South High School

Walnut Creek Neighborhood near YMCA
1011 Chris Lane
Available August, 2014
Rental home for $1200/month


"Homes for Sale in Winslow Farm close to YMCA & Bloomington South"
Click to look at residential homes and condos for sale in the Winslow Farm Neighborhood of Bloomington, IN, located between the YMCA and Bloomington South High School. Between Henderson and Highland these homes for sale are in the Templeton elementary, Jackson Creek middle school district

If you are shopping for Monroe County residential real estate near the campus of Indiana University in Bloomington, Indiana, for yourself or for your college student, think about making a family vacation out of your shopping trip. Stay overnight in a family cabin while house hunting. Bloomington Indiana overnight lodging accommodations are located in and around Bloomington, IN, at Lake Monroe, Lake Lemon and in neighboring Brown County Indiana.
"Helpful Bloomington Indiana Real Estate Information"

Bloomington Indiana
Bloomington Indiana is a great place to live...
the population (including IU students) is about 65,000. Bloomington has a stable economic base, low unemployment, low cost of living, an abundance of entertainmentand athletics & has been ranked as the seventh lowest stress city in the nation.Bloomington Indiana is a college town and a family town, twice designatedan all-American city.
Monroe County Indiana
Monroe County Indiana is a thriving community surrounded by the natural beauty of southern Indiana...
Lake Monroe Reservoir, Morgan Monroe Forest, Yellowwood State Forest are great places for family fun and outdoor recreation. The Monroe County YMCA provides health & fitness activities to all residents and in combination with Bloomington Hospital helps makes Monroe County a healthy place to live.
Indiana University
Indiana University offers fantastic opportunities...
Bloomington Indiana is a great place to live spring, summer, fall & winter. The campus of Indiana University offers cultural, educational and athletic events year round. Many are free to the public. October, with IU football & spectacular fall foliage is exciting...

Brown County Indiana Real Estate For Sale
Next door, Brown County Indiana has everything... from scenic vistas to professional summer-stock theater. From antique treasures to hand crafted items created in artists' studios while you watch. From hand dipped ice-cream to gourmet dinners, and vacation accommodations from tent camping to romantic hot tub suites. This little get-away location, so close to the IU campus, has been a family fav for generations.
Millions of midwest families visit Brown County State Park each year. They camp, hike, swim, fish, ride horseback, picnic and enjoy the natural beauty of the park located in the rolling hills of southern Indiana, just one hour south of Indianapolis and twenty minutes from the campus of Indiana University in Bloomington, one of the top rated retirement cities in the United States. Couples love to marry in Brown County State Park, honeymoon in cozy log cabins, return to Nashville for anniversaries...and then, retire to Bloomington, Indiana.

Check our Brown County Indiana link page.



Bloomington Indiana/Monroe County Indiana Real Estate Information